Mackinac Island Fur-trader Native American Roots Twice Verified by Daughter's DNA
...by Marie Rundquist and Richard Wiles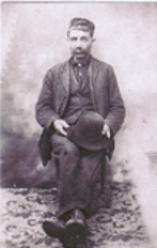 Charles Wachter, Jr.
Mackinac Island on Lake Huron is central to the histories of North America's fur-trading industry in the the 18th and 19th centuries and the Wachter, Fraser, Fisher, and Farlinger (also known as Farling and McFarland) families of northern Michigan. On Mackinac Island, a 3.8 square mile spit of land located at the "tip of the mitten," mid-way between Michigan's Upper and Lower Peninsulas, the North American fur-trading industry found its nexus, and a culture, comprised of Canadian fur-traders and their Native American wives, had its beginnings.
At the root of this family genealogy and cultural heritage is grandmother "Nancy-Anne Fraser," whose storied, Scottish surname evokes discussion of John Fraser, a founding partner in Canada's McTavish, Fraser and Co. -- chief suppliers and fur brokers for the legendary North West Company...
Click here to read more
!