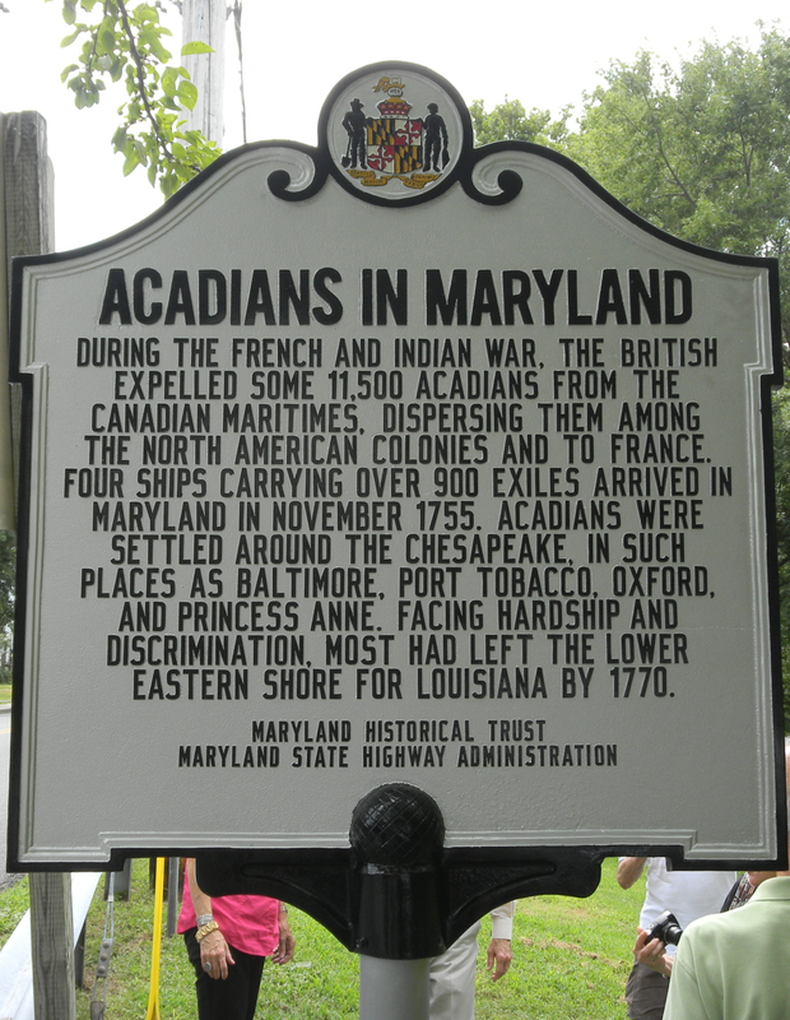 Dedicated July 28th, 2013, the "Acadians in Maryland" historic marker, installed and maintained by the State of Maryland, connects the dots for those whose Acadian ancestors lived in Maryland prior to their arrival in Louisiana.

​The marker is the first in the State of Maryland to recognize the little-known history of the Acadians who were sent to Maryland following their forced expulsion from Nova Scotia in 1755.

For your heritage journey, to be complete, you MUST include a trip to Princess Anne, Maryland on Maryland's Lower Eastern Shore where you will observe the Acadians in Maryland sign, read the words, and recall the trials of Acadian ancestors. On your visit to the Eastern Shore, plan to visit the Old White Marsh Church ruins off of Route 50, then take a walk along the waterfront in Oxford, Maryland, and then wind your way down to Princess Anne, Maryland to observe the State's ONLY "Acadians in Maryland" historic marker. Drive to the shores of the Wicomico River and imagine the Sloop Elizabeth sitting in its waters, her captain impatiently awaiting food and supplies that never came. Follow the Beach to Bay Indian Trail to the Furnace Town Living Heritage Museum where the swamp lands and surrounding forests hold the memories of ancestors who struggled to make their way through them. Tour Snow Hill, and you'll be able to capture an idea of what Acadian ancestors may have seen and experienced while living on the Delmarva Peninsula as they did for about a dozen years.

The words selected by the Maryland Historical Trust communicate the Acadian story with exceptional clarity. The dedication, which occurred on the Acadian Day of Remembrance, was a wonderful event, and attendance was excellent.
| | |
| --- | --- |
| The Louisiana Acadian Flag flew over Somerset County on the 30th of July, two days following the dedication of the Acadians in Maryland historic marker. During the month of August, the flag will fly over the Manokin River Park and the Town of Princess Anne. | The Town plans to fly the Acadian Flag of Louisiana during the month of July in the years ahead in remembrance of the Acadians who lived in Maryland following their tragic deportation from Nova Scotia in 1755. Acadians and Marylanders each had a challenging part in a difficult time in history. That the flying of the Louisiana Acadian flag will be an annual Princess Anne town tradition is stunning and mirrors the perpetuity of the marker. |
Photographs Courtesy Nancy Kurtz, Maryland Historical Trust

Additional Photos