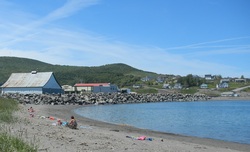 Travel by ancestry adds a new dimension to planning a vacation. With a search for ancestry as a primary focus, a vacation can span days, weeks, even centuries!
(The following article was reprinted with the permission of Brentwood News, "Westside Today," Los Angeles, California:)
This Summer, Improve Your Knowledge of Family, Ancestry
by Marie Rundquist | Brentwood News July 2012 | July 20, 2012
Summer allows a much-needed break from hectic school schedules, parents take time for fitness, working-out, and getting back into shape. Along with water-bottles and sunscreen, books about how to feel good, lose weight, and look great clutter family beach bags.
During long summer nights, conversations among families often drift to old times, and family stories are shared. Without an understanding of family history, it's easy for a parent to feel at a loss for words when a child asks questions about great grandparents, or wants to know where ancestors may have lived in early days.
It doesn't have to be this way. Toss a couple of test kits into your beach bag when you pack for your family's summer vacation, and improve what really counts -- family knowledge!
Interested in improving your knowledge of family and ancestry? The following types of test kits are available from different companies:
Y chromosome DNA test kit: Males in the family may connect with others who share the same, test results, identify most recent, common, paternal-line ancestors, verify genetic connections to common male ancestors through genealogy, and learn about deep ancestral origins. Prices for Y DNA test kits start at approximately ninety-nine dollars.
Mitochondrial (mtDNA) test kit: Males and females in the family can learn about earliest ethnic and geographic origins, and verify maternal-line connections to common, female ancestors through genealogy. Prices for mtDNA test kits start at approximately ninety-nine dollars.
Autosomal DNA test kit: Males and females in the family can learn about the shared genetic contributions of all ancestors, within the past four-to-five generations of a family tree, identify close matches among others who take the test, and by comparing genealogies, discover long-lost cousins. Autosomal DNA test kits vary in price; most are available for less than three hundred dollars.
Note: Before you purchase any test kit, read all company literature to learn about the types of results you'll receive as well as customer reviews. Find out if there are ways for you to share information with others who test, and if memberships or additional subscription fees are necessary.
Marie Rundquist is a DNA project manager, collaborative research community moderator, president of an information systems consulting firm and author of Revisiting Anne Marie: How an Amerindian Woman of Seventeenth-Century Nova Scotia and a DNA Match Redefine "American" Heritage and Cajun by Any Other Name Recovering the Lost History of a Family and a People.
Click here for more information.