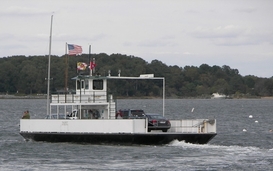 Travel by ancestry adds a new dimension to planning a vacation. With a search for ancestry as a primary focus, a vacation can span days, weeks, even centuries!

(The following article has been reprinted with the permission of McClatchy-Tribune Information Services (Mctdirect.com)):


Travel by Ancestry: A vacation takes on a new dimension when you add a search for family history to your travel plans.

July 9, 2012
by MARIE RUNDQUIST, McClatchy-Tribune

By following the paths of ancestors, your family vacation this summer can become a journey of exploration and a fun way to connect to the past.

Many communities have annual festivals, "Old Town Days," where families and friends gather to celebrate a town's history and the foods, traditions, music, language, dancing and ethnic heritage of its people. By attending a community festival in a town where your family's ancestors once lived, you can connect, in real-time, with the past and develop new relationships that last long after a vacation is over.

A detailed road map, coupled with a genealogy, helps your family retrace the paths ancestors followed as they moved from place to place. In a sense, your family can "live" the histories of the people who settled an area by traveling their routes; experiencing the same changes in scenery, climate and culture as they did during their journeys. Stop at a local library, museum or cultural center to uncover more clues about family history and the events surrounding an ancestor's arrival or departure from an area. The discovery of a journal entry, a photo of an old home site or a collection of traditional recipes adds value to the travel experience, as the present is informed by the past.

An ancestor's name, found on an immigration record or a ship's passenger list, inspires travel to an ancient homeland, where a search for familiar surnames - on street signs, in phone books, in the records, on graveyard markers and on the sides of buildings - keeps everyone involved in the hunt. Census records offer new clues to ancestry; an unexpected birthplace reported for an ancestor may prompt a trip halfway across the country - or around the world - to learn more about a family's past.

Travel by ancestry may find its beginnings in a hand-written letter, from one ancestor to another, describing a new land, inviting all to come for a visit. Accept the offer - and let a search for family history guide you to your next travel destination.

Marie Rundquist is a DNA project manager, collaborative research community moderator, president of an information systems consulting firm and author of Revisiting Anne Marie: How an Amerindian Woman of Seventeenth-Century Nova Scotia and a DNA Match Redefine "American" Heritage and Cajun by Any Other Name Recovering the Lost History of a Family and a People.


Click
here
to learn more.