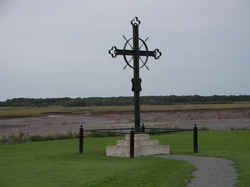 Travel by ancestry adds a new dimension to planning a vacation. With a search for ancestry as a primary focus, a vacation can span days, weeks, even centuries!
A visitor to th
e Grand Pré National Historic Site of Canada
may encounter Evangeline, the fictional heroine of a poem written in the nineteenth century by Henry Wadsworth Longfellow, and her lover Gabriel, portrayed as a blacksmith's son, on the eve of their expulsion from Acadia.
A visit to
Grand Pré
, Nova Scotia in the fall of 1755 finds a very real blacksmith's son, his young Acadian wife, and their children, awaiting the same fate as their fictional counterparts, their story no less wrenching; their experience no less dramatic.
Drive a short distance to an isolated beach in present-day Hortonville,
and live the experience of this same blacksmith's son, his family, and others, as they board the ships that would forever separate them from their homeland, their footprints on the shore still fresh.
Click
here
for more of this story.