Greg Wood, Marty Guidry and Marie Rundquist were the keynote speakers and presenters during the historical journey of the Acadian experience in Maryland that took place between the morning of Wednesday, September 13th through the afternoon of Friday September 15th. The tour group, comprised of Acadian descendants from Canada, largely Nova Scotia, New Brunswick, and Quebec, visited Acadian diaspora sites in Baltimore, the White Marsh Ruins, Snow Hill, Furnacetown, Princess Anne, Oxford and Annapolis during the carefully planned three-day sojourn into some of Maryland's most historic locations. We are Acadians in Maryland!
"Ave Maris Stella," the National Anthem of the Acadian people, is sung in front of the "Acadians in Maryland" sign at the Manokin River Park in Princess Anne, Maryland to honor Acadian ancestors who lived in the area after being deported there, by the British, in November of 1755.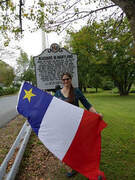 Marie Rundquist, author, holds the Acadian flag while standing in front of the "Acadians in Maryland" sign in Princess Anne, Maryland. Marie is the descendant of Acadians Genevieve Hebert and Michel David dit St. Michel who were deported from
Grand-Pré
to Maryland in 1755. Genevieve Hebert was the great granddaughter of Anne Marie (?), an Amerindian woman (said to be Mi'kmaq or possibly Métis) out of Port Royal, Nova Scotia who married two French settlers in Acadia, first, the unknown Pinet, and then second, Rene Rimbault, in the mid-17th century.
​
For more information about the history of Acadian exiles in Maryland, visit
http://acadianswerehere.org
. For information about the tour group, and when the next tour will be scheduled, visit Les Voyages DiasporAcadie ! and email
diasporacadie@gmail.com